Performance, Quality, Workmanship ! For Less, Guaranteed!
​Patio Cover Specialists, Insulated Roof Panels, Aluma Wood and Aluminum Patio Covers. Performance, Quality, Workmanship , For Less, Guaranteed!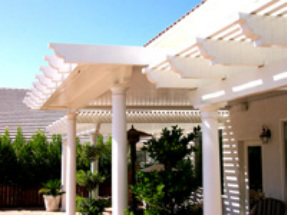 Proline Pacific Patio Covers. Call now for a free estimate: (858) 837- 0100 Experience the ambiance, look and appeal of real wood with a fraction of the maintenance and up keep. Alumawwod patio covers will not rust, warp, crack or rot. All Our shade structures are a smart investment that features beauty, durability and versatility, creating a refreshing outdoor environment for your friends and family. In choosing an Aluminum product, you have many styles and color options to choose from to create the perfect setting for outdoor fun and a Full Lifetime Warranty ensures carefree ownership for years to come !


---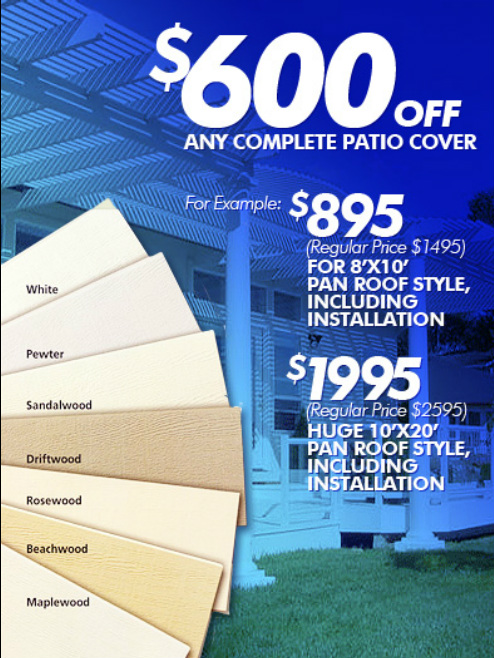 San Diego's Leading Patio Cover Contractors for Quality Work and Unbeatable Pricing ! Proline Pacific patio covers increase property value, add outdoor living space, and provide you with an attractive, unique maintenance-free sanctuary from the blazing sun.
Save you hundreds of dollars in materials and construction!


Limited Lifetime TRANSFERABLE Warranty


Look like perfectly-cut, premium grade wood


Never need painting or staining


Never warp, burn, split or crack or becomes infested with termites or insects


Withstand the hardest conditions including sun, rain, wind and extreme temperatures
Professionally installed in just 1 or 2 Days
Expert assistance from sales to installation


Over 30 years experience


We employ our own friendly, courteous, efficient, quality installers


Locally owned and operated


Manufactured to order ~ installation in just 1-2 days


Manufacturer direct pricing


No high-pressure sales tactics


Contractor discounts


Good standing with the State Contractors Board
---
Patio Covers & Pergolas
Our Patio Covers have a unique blend of technology and timeless design, enabling your patio cover to withstand the harshest conditions while exuding a classic visual appeal. Our solid covers provide a measurably cooler experience than standard solid covers. Thanks to our advanced technology, your previously 'hot' patio will be transformed into an inviting oasis.

We also have quality Pergola covers that give you a balanced combination of sun and shade…highlighted by a casually-elegant design.

Whichever type of patio cover you choose, you're sure to appreciate your patio that much more, every time you step outside.

All our patio covers also include our richly-embossed HD wood grain texture, which delivers the seductive appearance of wood and the weather-resistance power of aluminum. Plus, we have engineered our patio covers to include the option of attaching a fan & light fixture or recessed LED lighting to enhance your daytime and nighttime gatherings.

A cool roof reflects and emits the sun's heat back to the sky instead of transferring it to the patio below.
State-of-the-art Technology

Exclusive Paint System
The key to the superior performance of Proline patio covers is our exclusive paint system-regarded as the greatest advancement in the patio cover industry. The only one of its kind, our system features Ceranamel XT-40, an advanced custom coating compound with a number of high performing properties.

To help significantly reduce heat, Ceranamel XT-40′s ceramic pigmentation reflects U.V. rays skyward, in the process providing a much cooler setting. Our exclusive paint system exceeds the guidelines set forth by the Cool Roof Rating Council. It is also an approved Energy Star Product.

The DuraCool paint system is fortified by DuPont's Telflon protector, a super tough coating that provides superior resistance to scratching, abrasions, dirt & stains-making cleaning a breeze. With its unique ceramic pigments, DuraCool resists chalking, fading and environmental weathering longer than any other patio cover in the industry.

Superior Performance
Aluminum lasts a lifetime…with our exclusive paint systems, so will its appearance. That appearance is refined by our deep embossing process that gives your cover a realistic wood-like facade.

Our patio components retain their original color, gloss, texture and structural integrity longer and better than any other patio product on the market. What this means to you is no repainting, cracking, warping or harboring of insects. It also means that your cover will look newer longer.


While DuraCool is protecting your patio, we protect your purchase with a life time warranty, the most comprehensive in the industry.



About Proline Pacific
Proline Pacific is a family owned business for over 30 years. We reside here in San Diego. Our experienced staff has the know-how and talent to design, customize, install, and finish your custom patio cover structure or Patio Room with the expertise you should expect! We take pride in our work, and as specialists we make your project a masterpiece.
Proline Pacific is authorized, experienced, locally owned and operated, and fully licensed and insured to comply with all regulations to satisfy the need for custom design to your exact property and standards.We provide top-quality installation; and after construction, customer attention and service you'll be hard pressed to find elsewhere. The people who staff our company live here, work locally, and know how to give special attention to detail. Our level of dedication is the highest and the pride in our workmanship shows! We personally Install all our products, No subcontractors!
Call us for an estimate - there's never a charge. Our design experts will help you bring your dreams of a patio experience to reality! Our affordable prices will make you smile too!

No payment for 18 months
No Money Down !
100% Financing option available

​

---

___________________________________________________________________________________________________________________________________________________________________

What our customers are saying about us:

"I can't thank you enough for being available by phone to help me through the installation, and for helping me with the engineering of this project. My neighbors are all complimenting us on the new addition. I am talking up your valued assistance. I hope you get some additional business." – San Diego

"We are very pleased with the end result. I am a very happy camper!" - Paul

"I now love my patio, was very happy that with all the rain today we had no leaks. It came out beautiful." - Teresa

"We are very happy with the product and looking forward to ordering a bigger pergola and move this one to the front yard (I am working on the budget for this)" - Dimitry

"I want to tell you how happy my wife and I are with the work that your company did. We had other estimates, but chose you because we felt that you gave us the most honest price, and did not pressure us. Everything that we were told about the work was true! Thank you." - Tom D.

"We love our New Patio Cover, very happy with how it adds to the look of our home." - Donna

"I appreciated the installers professional manner and his suggestions. We're very pleased with our new look!" – Julia D.

"Dave was our installer, and he did a wonderful job! He is a definite asset for your company." – John K.

"Great job!! Thanks for your patience. You are great to deal with. I will recommend you." - Margaret N.

"Thanks for a great looking patio cover. Installation was smooth. We love it!" - Trevor